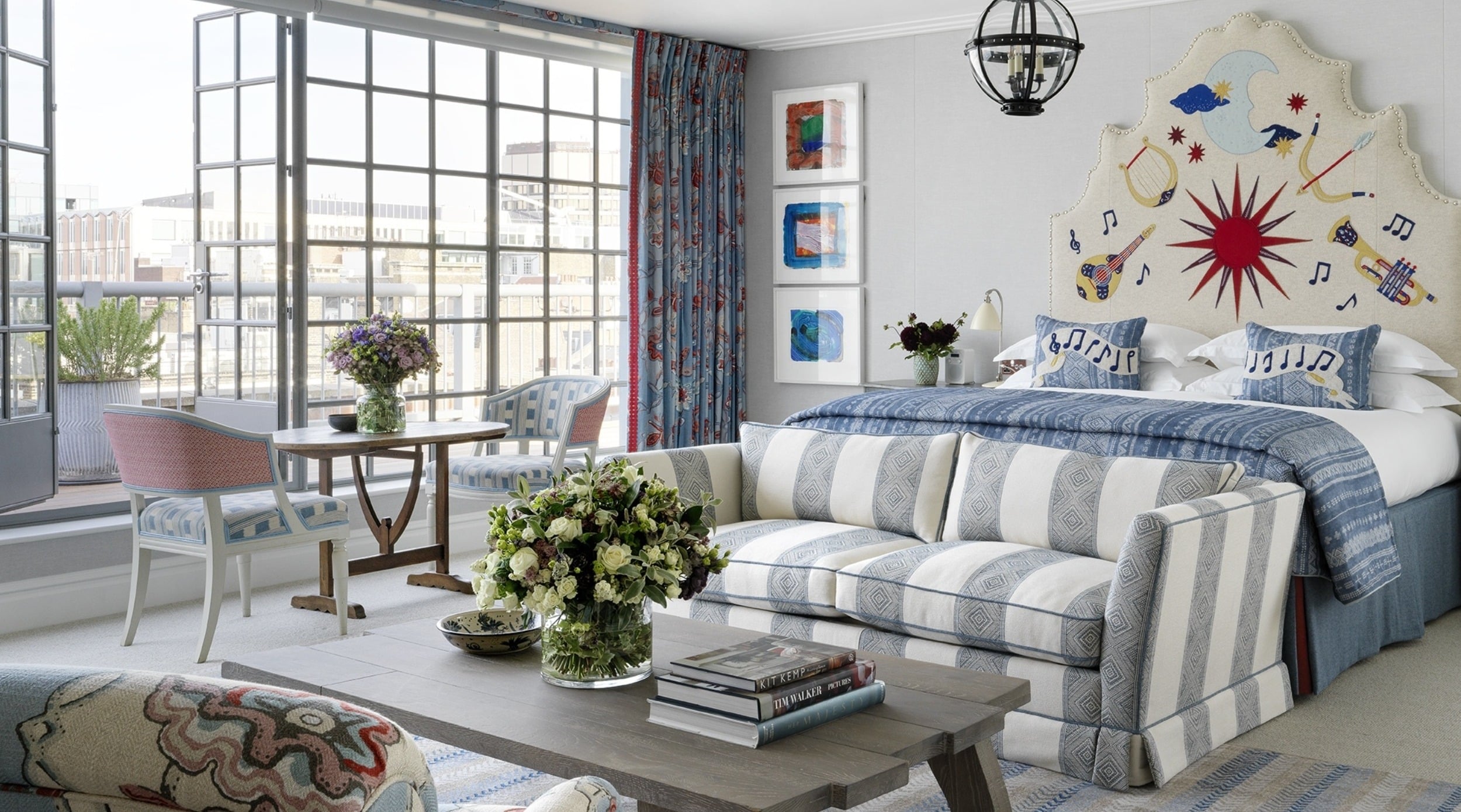 The New Terrace Suite at The Soho Hotel – Sunbeam Sleepy Heads
---
The Soho Hotel is where all the cool cats stay – it's a destination. There are plenty of cosy corners and vibrant vistas that make for the most memorable of evenings. On the 5th floor, our newly designed Terrace Suite is just waiting to be discovered.
There's no 10pm curfew here. Order room service lying under a hand embroidered applique headboard created by fashion designer, Clio Peppiatt and the Kit Kemp Design Studio. More an art piece than a headboard, this one of a kind design was a joy to create. We love collaborating, especially between disciplines. Clio's sustainable fashion line is filled with hilarious nuance and storytelling.
Soft blues and dusty pinks against a contemporary Casamance soft sky blue linen on the walls create a romantic scheme you can relax into.
We revamped the fabric design 'Chainstitch', an old block print design from the archives at Hazelton House and created new colourways which play with the fabric ground weights. It's amazing how much the design changes.
For the curtains, we have used the lighter linen design which drapes like a dream, we couldn't resist the Kate Spade trim running down the leading edge for a playful pop of contrast!
The more heavyweight herringbone fabric has been used to upholster a pair of Howard chairs framing a stone Jamb fireplace, surrounded by sumptuous leather bound books.
Pop your feet up on our Five Plank Coffee Table in the new Oyster finish available to buy through Shop Kit Kemp.
If you would like a more upright dining affair, you can sit at the hand painted round table on our own Whitby Chairs, upholstered in 'Lost and Found' from our collection with Christopher Farr.
There are paintings by the great Howard Hodgkin throughout the bedroom, if you weren't into abstract expressionism, you will be after a night in this fabulous suite.
In the bedroom, the scheme is pulled together by our 'By Way Winter' design for Wilton Carpets which adds texture and defines the seating area, not to mention being very soft under the toes.
In the Drawing Room, we wanted something more antique – this found rug from Gallery Yacou has seen many a sunset and I love the way it immediately makes the room feel lived in and cosy.
We turned a vintage French farming implement into a one of a kind coffee table that you can have a banquet on!
Clio Peppiatt has also created bespoke hand embroidered sofa cushions that continue the musical sunbeam theme into the Drawing Room and they are such a delight.
Our Rocket Lamps, available from Shop Kit Kemp, sit on a long DJ table hosting a selection of handpicked records including Tim Kemp's favourites.
If you get a bit hot and sweaty from all that jiving, you can pop out onto the wraparound balcony and contemplate the London cityscape which seems to glow through the floor to ceiling Crittal windows.
Truly the place to get up to mischief, this is our favourite suite in London, book now to avoid disappointment.