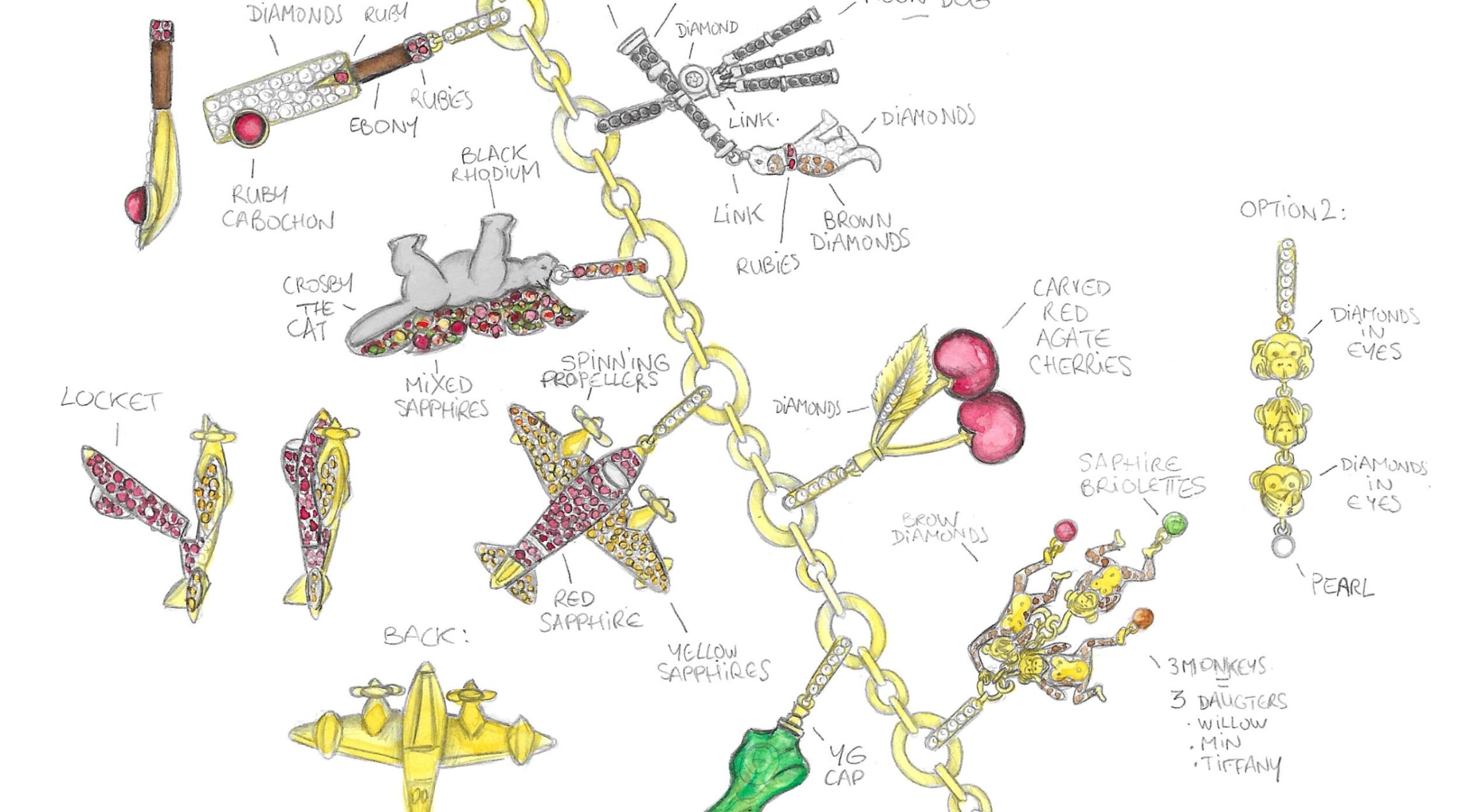 Meet the Maker: Annoushka Ducas and My Life in Seven Charms Podcast
---
Annoushka Ducas is a British jewellery designer and founder of Links of London and Annoushka. She creates groundbreaking yet timeless designs, with a unique approach to creating jewellery with tactility, detail and playfulness, using solid gold in a mixture of textures and colours.
Annoushka recently invited me to feature on her new podcast 'My Life in Seven Charms'. I love the concept of her intricate charms, creating minuscule personal designs which each tell a story.
You can listen to the podcast now to find out the meaning behind my seven charms: an Airplane, Cherries, Three Monkeys, our signature Mannequin, a Cricket Bat, Crosby the Cat and Moon Dog.
This week we have turned the tables and asked Annoushka about her inspiration and craftsmanship…
Where do you get your inspiration from?
There is no one thing that inspires me, I just have to feel a connection and love it enough to want to make it! That said, nature has always played a big part in my design. When you look closely at a seed, a petal or a beetle, the detail is always so exquisite and I adore that level of intricacy.
My garden in West Sussex is my sanctuary as it evolves with the seasons. I recently visited a remarkable topiary farm in Nantes in the West of France and brought back a couple of large trees. The collection I launched in Spring, Garden Party is inspired by the graphic lines and negative space which makes topiary so fantastic.
Your charms are powerful and full of meaning. What makes a charm so special?
I have collected tiny trinkets and charms since I was a little girl and have always had a fascination with the miniscule. Charms hold a very powerful allure, not just because of their intrinsic worth, but because they have a unique ability to retain memory and meaning – they touch our skin, retain our warmth and in time age with a beautiful patina, a tapestry of marks and moments.
My mother used to travel a lot and she would always bring me back a little charm as a token of the places she had been. Each treasure holds its own narrative and energy – reminding me of every adventure and memory together.
It's this idea which led me to launch My Life In Seven Charms, a bespoke experience whereby you can commission me to design seven entirely unique charms which form an 18ct gold biography of your life. We loved the concept so much that we also launched a podcast with the same name, where seven inspirational women discuss their lives through seven charms.
We can see you believe in the power of stones. Do you have any favourites?
I believe that stones hold an energy which attracts them to the wearer. When John (my husband) and I were trying to find my engagement ring I was convinced I would have an emerald. In the end I designed my own ring as I couldn't find anything I truly loved. When we were selecting stones, I tried a few emeralds against my skin and they just seemed to fall flat. I was convinced to try a ruby, and having thought that it was the last stone I'd choose, it took my breath away.
What tips do you have for choosing the right stone?
I've always advised my clients to just try things, even those that you'd least expect to like. Gemstones really do hold the power to transcend any preconceptions. Keeping an open mind allows you to see beyond the obvious and find a far more interesting stone.
I adore stones with inclusions and mixtures of minerals. A unique stone is a moment captured in time, never to be repeated, it's like a very precious window in time.
Please tell us a bit about the design process?

I'm not a classically trained jewellery designer, which means I probably approach design in a different way to most. Because I don't have the formal structure behind me, I don't limit myself – anything is possible in my mind.
My initial ideas are always visual – photos and references captured and collected, which I'll sketch into formative design ideas. It's about perfecting the balance, weight and movement of a piece and then the tiny details which are just as important. Once perfected, we carve this into wax, and then we use a very ancient technique called lost wax casting to create our master.
What tip would you give to someone that wants to start a career as a jeweller?
One of the most valuable mantras that my Mother taught me, which I carry with me and have passed on to my own children and to those who I have mentored through our connections to Central St Martins, is to never impulsively say "no". I can almost hear her whispering "just try it" in my ear, that voice of encouragement and belief is such an important inner voice for anyone starting out in this industry – just do your best.
It sounds obvious, but that simple little phrase could just give you the nudge to be brave and give something a try, without expectation. To that point, I think as humans we're fearful of failure, which can very often entirely block one's creativity.
I think it's important to remember that the journey is just as important as the end goal, the failures are learnings, painful and frustrating as they may be, but they're all part of the tapestry which allow you to keep developing yourself and your work.
Sometimes the first idea is the best, but sometimes it's important to keep going and keep pushing – trust your instincts!
CLICK HERE to listen to Annoushka's podcast, My Life in Seven Charms with Kit Kemp.