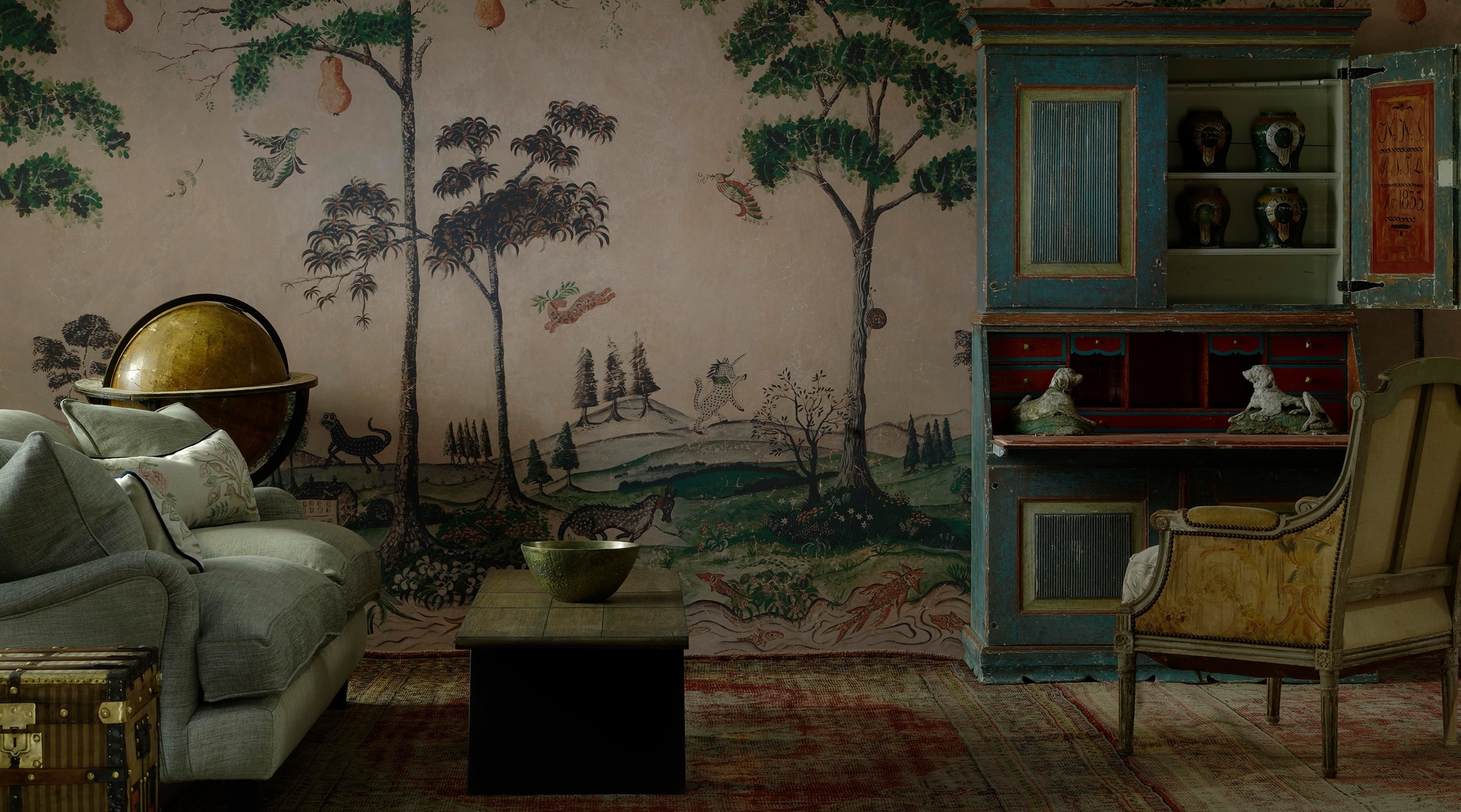 The 'Painter-Stainer' – Melissa White
---
Melissa White is one of our most treasured artists. She is highly accomplished in Elizabethan canvas painting and a QEST (Queen Elizabeth Scholarship Trust) scholar.
Our alliance with Melissa began when we worked together on two scenic wallpapers for The Whitby Hotel in New York and Charlotte Street Hotel in London. In Room 109 at Charlotte Street Hotel we asked Melissa to create a mural on the double height 13-foot high walls which would make our guests feel as if they were in the treetops, surrounded by birds, creatures and rolling hills fading into the distance.
This was just the start of a continuing relationship. I always love to visit Melissa in her studio in Hastings to see where all the magic happens. The technique Melissa uses has been developed over the years and involves a rustic process of applying plaster onto flexible hessian, which she paints over when dry. This unique method creates the patinated feel of the old wall paintings that Melissa was inspired by. Once painted the panels are distressed and cracked and finally a beeswax polish is applied which brings the artworks to life.
After working with Melissa on the bespoke wallpapers we were keen to develop these into a fabric and wallpaper collection available to everyone. Andrew Martin helped make this a reality and the resulting collection is a world of mythical creatures and rolling landscapes.
More recently we commissioned Melissa to paint two fresco secco panels for either side of the fireplace at our pop-up Caribbean Suite for Turnell and Gigon's showroom at Chelsea Harbour. The scenes were inspired by folk art American landscapes, featuring grazing cows and a lion with his tamer.
The next exciting project we've been working with Melissa on is our takeover of the Seventh Floor loft space at Bergdorf Goodman from April to August this year. We have commissioned some charming one-off items including a decorative bench with a hand painted bench cushion, more whimsical fresco secco panels and some beautiful chests including a glorious Unicorn blanket box! Take a look at some sneak peeks below.