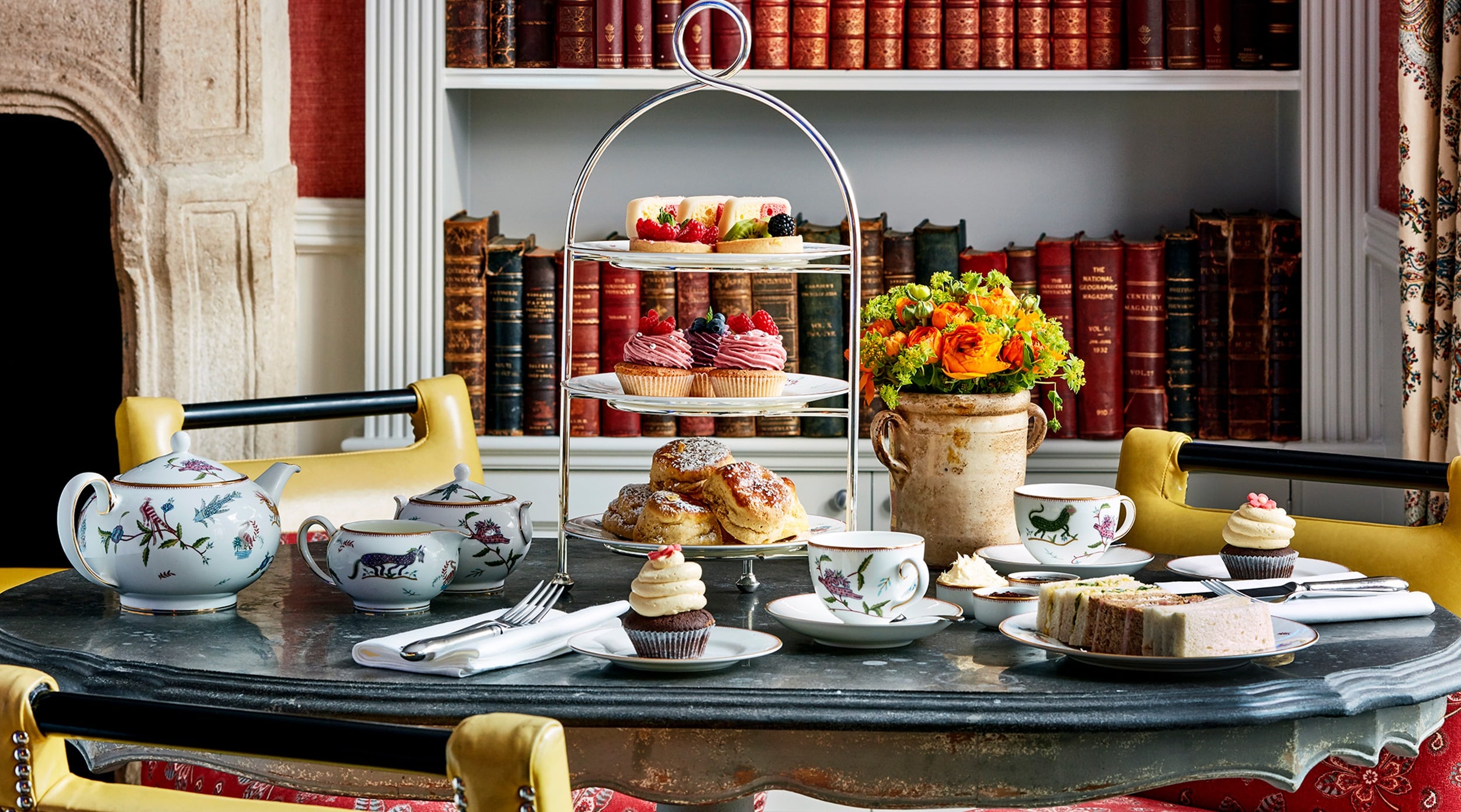 Cake is always a good idea, especially this week as we celebrate National Afternoon Tea Week.
Afternoon tea was introduced to England in 1840 by Anna, the seventh Duchess of Bedford. The Duchess would become hungry at four o'clock in the afternoon, and so asked for trays of teas and bread to be brought to her. This became a habit and she began inviting friends to join her.
This charming tradition is at the heart of our hotels. At Ham Yard Hotel, we were even awarded 'Best Afternoon Tea' at the prestigious Harden's London Restaurant Awards. Layers of freshly baked treats are laden on tiered cake stands in our 'Sailor's Farewell' design for Wedgwood. Lyrical hand drawn characters swirl around jewel coloured seas surrounded by creatures from the deep.
Each hotel has its own unique setting to enjoy such splendour. The Orangery at The Whitby Hotel is a joyful, art filled escape from the bustling streets of midtown Manhattan. On the back wall, there are 40 illuminated porcelain pots made by Martha Freud, etched with New York landmark buildings and bridges. The simplicity of the white wall is offset by the spoon-back chairs upholstered in Clarence House's woven 'Bukhara Crewel' fabric.
I love the way a simple collection of beautiful things start to tell a story when you display them together. In the Orangery we have created a collection of antique charger plates set in black Perspex to give them a modern twist. There are 40 lining the walls, they make a real statement.
We added a touch of glamour with a marble double height ice bucket which is perfect for storing Champagne whilst you enjoy your tea and cakes.
One of my favourite places to indulge in an afternoon tea is at Number Sixteen in South Kensington. The leafy garden is a pure oasis away from London's streets, a true hidden gem.
Our pastry chefs are so creative. At Crosby Street Hotel, we collaborated with our favourite New York florist to create a beautiful floral inspired afternoon tea.
Delicious pastries, such as the 'Hydrangea', a citrus shortbread with white wine gelée or a delicate 'Lavender' cake celebrate Lewis Miller's favourite summer blooms.
At The Soho Hotel, we've made our afternoon tea even more indulgent, creating the G & Tea. Each season our clever chefs devise a selection of cakes and savoury treats which complement a special gin cocktail – what more could you want?